Our Rehearsal Rooms, each modeled after a different tech company's conference room, are a unique feature of our center. These rooms are exclusively reserved for those using the space to rehearse or present and cannot be reserved for any other purpose (such as meetings, studying, etc). Read more about their various features below.
To reserve a room during business hours (9am to 5pm Monday through Friday), drop by our front desk in Clough 447 or email commlab@gatech.edu with your name, GT ID#, date/time for your reservation, your preferred room, and a brief description of what you will be working on so that we can best accommodate you. If you are looking to reserve a room for an evening or weekend time, book online here.
IBM Room (Clough 441)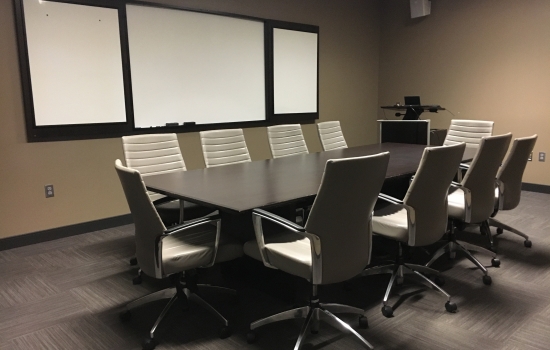 Room Information
Room 441 is modeled after IBM Conference Rooms from the 1990s and includes a standard conference table, projector, screen, and podium, and has video taping capabilities. Since 1990s conference rooms tended to be on the interiors of buildings, this room has no windows and low light levels. The most traditional of the rehearsal rooms, 441 is great for preparing for dissertation defenses or, as one student recently suggested, planning for world domination.
McKinsey Room (Clough 443)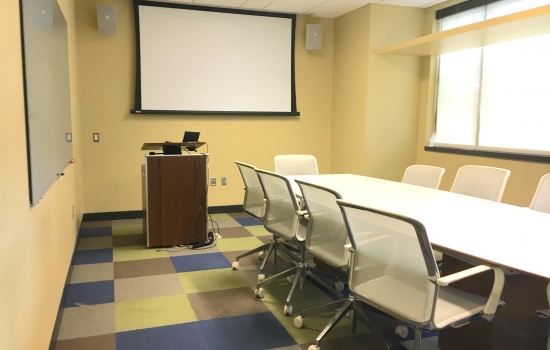 Room Information
Room 443 features natural light and provides a space that mimics contemporary conference rooms. It features a standard conference table, projector, screen, and podium, and has video taping capabilities. If you are rehearsing for a presentation in a room that may have large windows, this is a good space to test how that may affect your presentation.
Google Room (Clough 450)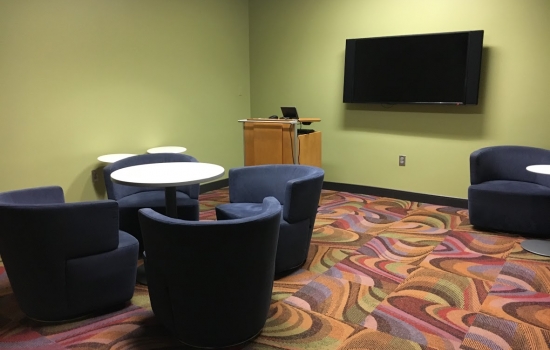 Room Information
Room 450 is our most modern room, modeled after Google conference rooms, where participants often view presentations on their laptops rather than watching a central screen. While there is a large TV for slides and a podium at the front of the room, its most distinctive features are movable armchairs and small tables, which accompany a white board. With the most flexible layout of all our rooms, this room is ideal for brainstorming and presentations where your audience might be multitasking.
Ben and Jerry's/Greenscreen Room (Clough 448)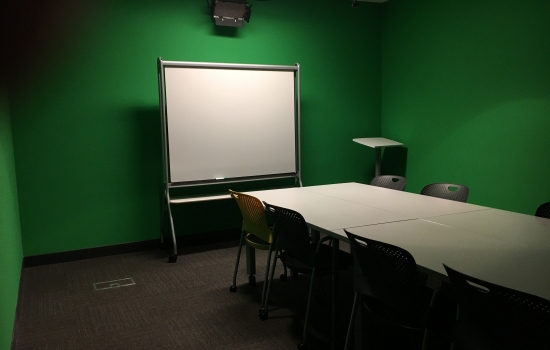 Room Information
Room 448 is modeled after the Ben and Jerry's conference room and features movable tables and chairs that can be grouped in various configurations. These tables and chairs share the space with our working green screen and a white board. Our smallest rehearsal room, the space also includes video taping capabilities. The green screen is popular for filming robotics, and the movable tables are ideal for breakout groups.